HOUSEHOLD CONSUMPTION IN AUSTRALIA
Calculator of household expenses
Savings portal CupoNation calculated how much an average household in Australia spends on different consumer goods. See the infographic below:
WHAT DO AUSTRALIANS CONSUME?
Where is all the money going? If this is a question you keep asking yourself every time you see your empty purse or check your bank account balance at the end of the month, then keep reading. The answer is in our current animated and interactive infographics. It provides information about the average expenditure of a household in Australia for a number of selected consumer categories. Every second of the animation, the consumer data increase by the daily average expenditure of a household. When you reload the page, the timer restarts at zero. In addition, you can explore the monthly consumption of an average household by hovering over the category's cards. The interactive cards include some surprises for you.
Australia's households spend more money on unhealthy consumer goods of alcohol and tobacco than on healthy products such as vegetables, fruits and non-alcoholic beverages. Almost 67% of beverage expenses is attributable to alcohol. Regarding the clothing, women spend 2x as much on their clothing than men do and 4x times more than they spend on their kids' clothes. CupoNation has compiled these and other interesting facts on the basis from the data of the Australian Bureau of Statistics on household expenditure survey, the consumer price index for the last five years and the inflation rates of 2010-2016. The research provides untraced insights into the consumer reality of households in Australia.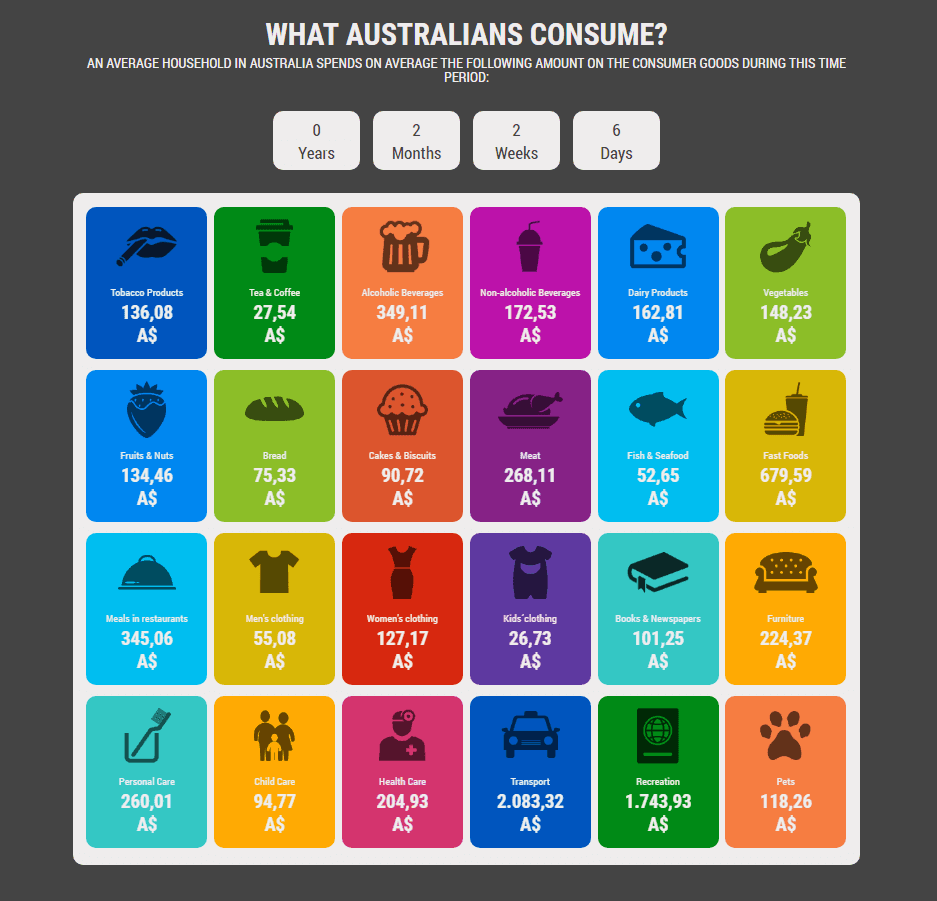 ABOUT THE STUDY
Sources and other information: Australian Bureau of Statistics http://www.abs.gov.au/AUSSTATS/abs@.nsf/DetailsPage/6530.02009-10