The Most Visited Shopping Websites In Australia
Based on traffic for the first half of 2018
The global discounts platform CupoNation has made a study examining the most visited shopping sites in Australia between January to June 2018.


The research addresses first the largest Australian shopping websites and then both the largest overseas and Australian sites. It looks particularly at the numbers of visits from Australia and ranks the top 10 most visited shopping sites in both categories: Australian online stores and Australian and overseas in total.
The Most Visited Shopping Websites In Australia 2018
Users from Australia are big fans of international online stores. Ebay and Amazon seem to be favorite online shopping destinations, meanwhile Ebay is 3.6 more popular than Amazon: Ebay.com.au had a total of 405 million visits for the first six months of 2018 and Amazon.com had 112 million visits in the same period. Global Amazon.com is still more popular than Amazon's Australian website. Amazon has recently launched in Australia, however, Australian users still prefer to use the global website: Amazon.com had 112 million visitors from Australia while Amazon.com.au had 52.4 million between January to June this year. It's a big challenge for Australian retailers to keep up with the international shopping sites. The competition is hitting hard and consumers tend to find alternatives in other markets and through other e-commerce channels.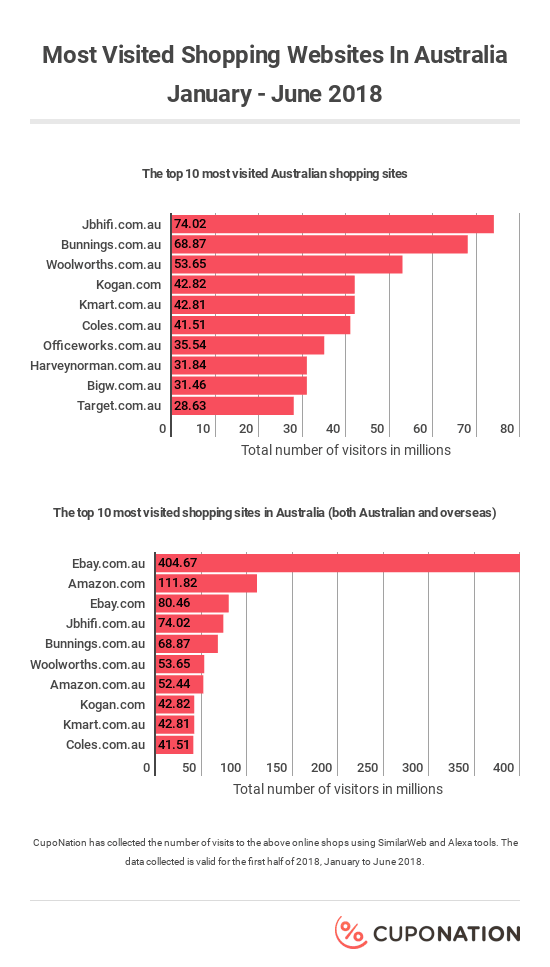 ABOUT THE STUDY
CupoNation has collected the number of visits to the desktop versions of shopping websites using SimilarWeb and Alexa tools. The data collected is valid for the first half of 2018, January to June 2018. The number of visits does not represent number of unique visitors, which means that if a certain user visited one of the websites for 5 times during the addressed period, it counted as 5 visits. The numbers above are rounded up/down.